Beverly Droz - About the Artist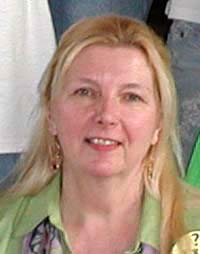 Beverly Droz grew up with art since her mother, Eve Brack, taught oil painting. In 1974 Bev began designing her own Christmas card, a tradition that she continues to this day. Friends await each year's delicately detailed design - in December 2006, Bev sent out 400 copies of her "Doe & Fawn in Snow Fall" pen & ink. The Unitarian Society in West Newton uses Bev's detailed drawing of the church for its note cards.
After taking watercolor classes at the Museum of Fine arts in mid-1990, Bev has been creating detailed and colorful watercolor paintings on location or from still life and photos. A prolific artist, she has many options to offer. Watercolors include seascapes, coastlines, landscapes, gardens and still life. Locations include New England, Cape Cod and the Islands, the Charles River, Maine, Florida and many other places. Pen & Ink drawings include handsomely detailed wildlife and a variety of St. Nicholas with messages of good will. Some are black ink on white paper, and some are white ink on black paper.
Original paintings vary in size and are available for sale, for the majority of Bev's work. She also takes commissions, with people providing her with a scene they would like replicated.
Bev offers very affordable professionally matted quality prints of her work in various sizes, but all standard sizes so you can easily find a frame to match. Her elegant all-occasion note cards are also top selling items. Both matted prints and note cards make affordable gifts for either your personal use or as gifts to others! Please see the Pricing Page.
Bev exhibits about twice a year, usually through Newton Open Studios, and sells from a studio room in her Newton home. Please contact Bev directly to discuss your interests or set an appointment.
From 1980 - 2000, Bev dedicated herself to the management of non-profit organizations in areas of nuclear disarmament, women's rights and politics, and the environment. A founding member of Green Decade Coalition/Newton in 1990, she served as its President from 2000 to2005. (Please visit www.greendecade.org for great environmental information!) Employed by the City of Newton since 2000, Beverly currently serves as the Director of the Human & Volunteer Services division. Bev often donates a percentage of her sales to environmental causes.